Is it time for a new bed?
Has your bed seen better days? Is your wooden frame on its last legs?
You might not realise but the state of your bed really does affect the way you sleep. Therefore, if you're finding you're not getting a good night's sleep or you're waking up with aches and pains, or not feeling revitalised the next day, your bed is probably way past its sell by date!
It could be that your mattress is saggy and doesn't give your body the support it needs, or maybe it's a bit on the lumpy side and has springs poking through. Perhaps one of the bed slats is broken so you find yourself falling through the cracks! Whatever the reason it's important to keep your bed in good condition so we've put together a check list so you can ascertain if it is, indeed, time to replace old faithful:
Is it over 7 years old?
Does your partner roll onto your side of the bed?
Is the mattress lumpy, worn, or sagging?
Do you feel as comfortable in your own bed as you did in another bed you've slept in?
Do the feet/castors feel wobbly?
Are you finding the mattress is squeaking a lot when you turn move about?
Do you wake up feeling refreshed, or still tired and achey?
Does the mattress have stains, bed mites or anything lurking that would make you feel embarrassed?
If you answered yes to most of these then undoubtedly it's time for a change.
How to choose a new bed that's right for you
There are so many different beds on the market so it can be a little confusing when it comes to choosing one that's right for you. You need to decide the type of base you want – this could be a wooden bedrame, a divan base and there are a few variations when it comes to the latter.
Then you need to think about whether you want a foam, memory foam, open coil sprung or pocket sprung mattress. A lot of this is down to personal preference but cost is also a factor. After you've decided which you prefer you can then choose the firmness rating (soft, soft/medium, medium, medium/firm, firm and so on).
The old saying "you get what you pay for" needs to be taken into account when buying a new bed, but if you can get one that is the best value for your money rather than simply the cheapest, you shouldn't go far wrong. After all, it's nicer to sleep in slighter less expensive new bed than a grubby second hand one.
Take into account also the size of the bed you are looking to purchase as this can make a big difference – especially if you share a bed! Try to buy one big enough so that you don't bother your partner. Allow an extra 4-6″/10-15cm on the length on top of the tallest person. So if you're over 6′ it's probably better to go for a longer than standard length. And on the width you should be able to both lay down on the bed with your hands behind your head and not touch elbows.
What are the different 'standard' UK sizes?
In the UK we have 6 standard sizes as outlined in the table below, so anything outside of these sizes is considered an odd size – that includes US and European sizes:
| Type of Bed | Imperial Sizes | Metric Sizes |
| --- | --- | --- |
| Small Single | 2'6″ x 6'3″ | 75 x 190 cm |
| Single | 3′ x 6'3″ | 90 x 190 cm |
| Small Double | 4′ x 6'3″ | 120 x 190 cm |
| Double | 4'6″ x 6'3″ | 135 x 190 cm |
| King | 5′ x 6'6″ | 150 x 200 cm |
| Super King | 6′ x 6′6" | 180 x 200 cm |
Standard UK Bed Sizes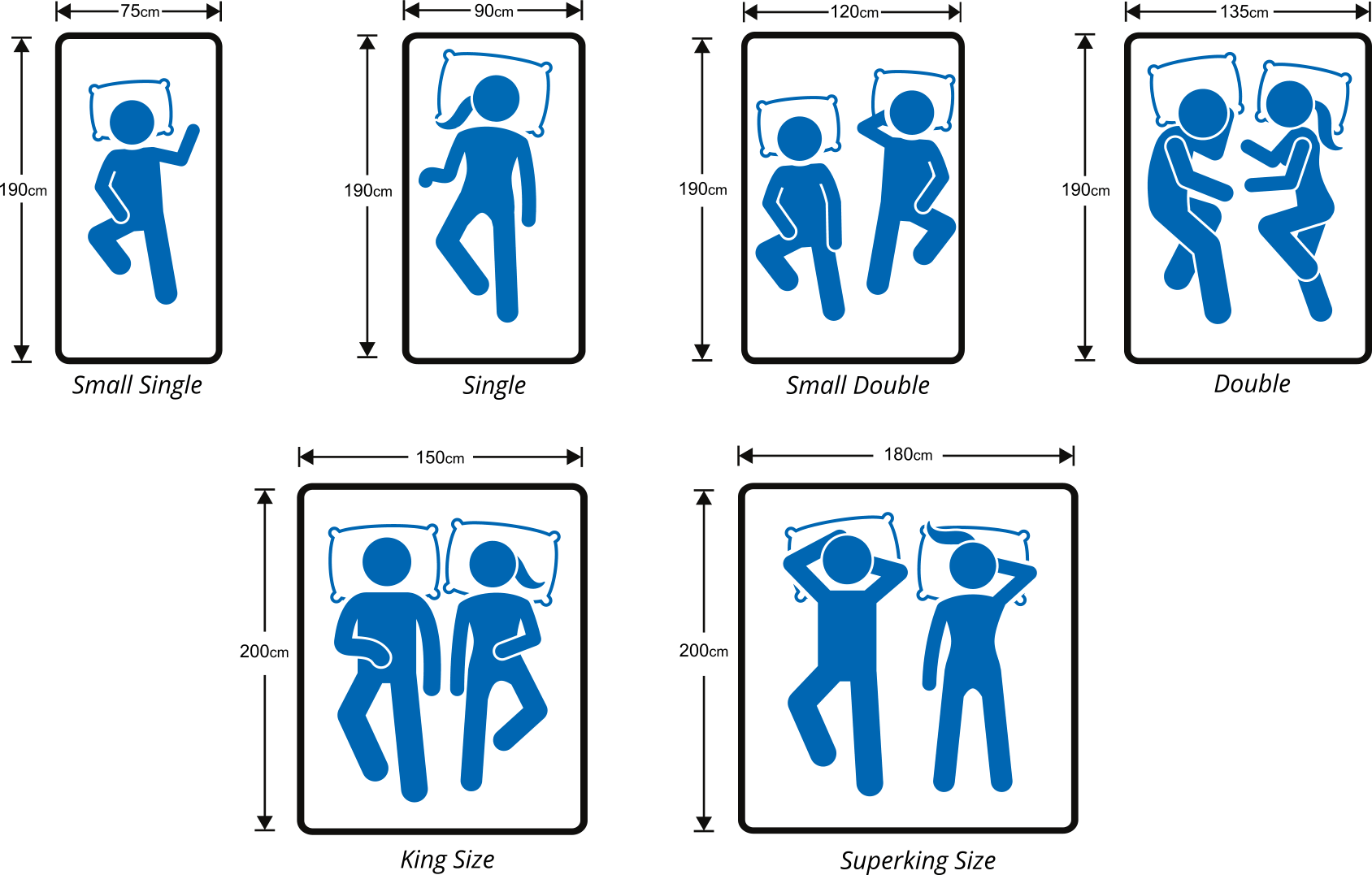 So what's the difference between bed and mattress types?
Bedsteads come in many different styles be it traditional or modern and are available in wood, metal, plastics, upholstered or a combination of these. Many are imported so don't usually conform to UK sizes but there are plenty of other options out there.
One thing to note when measuring for a bedstead is that you usually need to allow an extra few inches on the width and length due to the overall dimensions.
Slatted bed frames/bases usually form part of a bedstead. There are two different types of slats; either solid or sprung.
Sprung slats are made from laminated wood and are mounted inside the frame using plastic slat fixings. They give a softer support for the mattress and are springy and usually provide a better surface for the mattress as opposed to the rigid type.
Rigid slats offer a firmer sleep surface with no 'give' so this will result in the mattress doing most of the work. So between the two, sprung slats will offer the best solution when it comes to prolonging the life of the mattress.
Bunk Beds/Cabin Beds/Guest Beds/Adjustable Beds
Adjustable beds come in a range of styles from divans to bedsteads and in UK sizes. Each side of the double sizes can work independently of each other. They will normally have flexible laminated slats or fully sprung upholstered parts. Always ensure you buy the bed and mattress together so they are compatible.
Bunk beds and cabin beds are a great option for children as they offer a little bit of fun for the child as well as being practical and space saving. Cabin beds typically have a top bunk with a desk or cupboard or similar underneath, whereas the bunk beds will have 2 beds on top of each other. Often wooden or metal in design.
There are three types of divan bases and they are still, by far, the most popular type of bed in the UK.
Sprung Edge Divans: the most expensive or luxurious of the three and include a complete open coil or pocket sprung unit mounted on the frame – this acts like a shock absorber and gives the mattress longevity.
Solid or platform top divans: made from a rigid, flat top panel which is usually manufactured in hardboard. These offer a firmer sleep surface and are more affordable.
Firm Edge divans: feature a smaller number of larger, heavy duty springs within a rigid, wooden sided frame.
Divans provide the best space saving solution and are fully customisable. You can choose different fabrics, colours and storage saving options such as drawers or sliding doors. The most popular, but more expensive, for storage is the Ottoman as you can lift the whole mattress up and just pop things in underneath!
The first thing you'll notice about a mattress is the 'ticking' which is what it's covered with. Bear in mind this will be covered up with linen so the colour or pattern isn't overly important, but what is important is that it's durable. It should be resistant from tearing.
For the best quality choose one that is woven or knitted in high quality viscose or cotton. Cheaper fabrics are polyester or polypropylene and are usually printed. Budget mattresses at the lower end of the scale will be bonded with stitch-bond fabrics or other cheaper knits.
You can also get ticking that has special qualities such as anti-dust mite, hypoallergenic, anti-bacterial/microbial, anti-static, breathable, water/stain resistant, highly absorbent, naturally fire retardant and so on.
One of the most popular options are those that offer thermal regulation through moisture wicking and evaporation technology. These performance fabrics help to move perspiration away from the body and through the fabric where it can evaporate quickly allowing you to feel cooler and more comfortable.
'Quilting' is a decorative effect that attaches the outer fabric to the surface fillings and this gives the mattress a smoother, flatter surface than a tufted one.
'Tufting' is where tapes are passed all the way through the mattress at regular intervals and then secured by tags or washers on either side. This keeps loose fillings in place.
'Side Stitching' usually forms part of the more expensive mattresses as the side panels (typically pocket sprung mattresses) are hand side stitched. This stitching will allow the mattress to keep its shape for longer.
Sprung/Pocket Sprung/Memory Foam/Foam
Open Coil: this is the most widely used type of spring (aka Bonnell Spring) in sprung mattresses – these springs are arranged in rows and are connected to each other on the top and bottom by a spiral helical wire which has an outer rod that strengthens the perimeter. They come in various tensions ranging from very firm 12.5g to 13.5g soft to medium tension as a guide – budget to mid-range costs.
Continuous Sprung: this type of spring unit is made from a single length of wire 'knitted' into a series of interwoven springs. The springs usually run up and down the bed and are linked vertically instead of horizontally. They have a softer guage of spring and smaller coils so have a higher spring count and are more responsive – mid-range cost.
Pocket Sprung: mattresses with this type of spring unit are of higher quality. The smaller, softer springs are individually packed in small calico pockets and work independently from each other. They are nested by hand in a honeycombed shape and tied in the centre by linen cord. They offer the best type of support and respond better to body movements and eliminate roll. The number of springs range from 600 to as many as 4,500 and have varying tensions. Typically the more springs, the firmer the tension, but this is also determined by how much and the type of filling inside the mattress. Some cheaper pocket springs are encased in fibretex or stitch bond fabrics and glued together in rows.
Mini Sprung: these are a new concept emerging onto the market and as the name suggests they are extra low profile, mini springs usually no higher than 3cm/1″ which offer an alternative to the traditional fillings as they offer a comfort layer that is very resilient. These springs can also be stacked on top of each other to form soft high spring count mattresses.
Latex: premium quality natural material derived from the sap of the rubber tree. Latex has a distinctive feel and is highly durable. It also has anti-microbial properties that offer benefits to those suffering from allergies. Naturally elastic, it immediately recovers its shape. This allows for even distribution of pressure for great support.
Memory Foam/Visco Elastic – this type of mattress is very popular. It offers body contouring support which helps to alleviate pressure. The memory foam responds to the individual's body shape. Various densities are available. Memory foam mattresses usually comprise other types of foam. Sometimes also springs with the memory foam forming the sleep surface.
Polyurethane/Reflex Foam – this particular foam is synthetic and petroleum based. This type come in a range of tensions from soft to very firm. Reflex foam is the firmest. Slightly less expensive than memory foam but provides a very comfortable and affordable option.
Which mattress is best?
It is crucial for people suffering from any medical conditions such as back or spinal pains to get medical advice. Ensure the mattress you choose is suitable, otherwise you may find that rather than relieving the pain and discomfort you could actually make it worse.
The main aspect of choosing a new mattress is all down to personal preference. Aesthetics are all well and good, but pretty pointless if you can't get a good night's sleep because you're uncomfortable.
There is no bed or mattress in existence that is perfect for everyone's individual needs. After all, what floats your boat won't float someone else's!
The bottom line is choosing a mattress is really down to personal preference.
If you are ready to purchase a new bed give us a call. We will talk you through the best option based on your individual needs.
Has your bed seen better days? Is your wooden frame on its last legs? You…
Continue Reading
A bed is a very important part of our lives. After all we spend many…
Continue Reading